Gourmetstüberl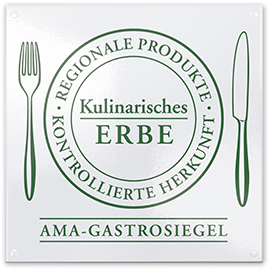 Food lovers and gourmets are in just the right place at Hotel Garni Forelle's Gourmet Dining Lounge.

Head of the house, Roland Kirchler, is passionate about cooking - and you can taste it! The certified AMA Seal of Quality means diners enjoy great food in our restaurant, prepared with predominantly regional ingredients. As one would expect, the fish for our fish dishes is freshly caught from our hotel-owned private waters of the Tuxbach River.

Do something good for your body and live life to the fullest – a principle that is leading increasing numbers of guests to demand wholesome, natural food. No flavour enhancing additives are required anyway for an unforgettably enjoyable experience for the palate and mind!
We have laid a table for you - come and find out for yourself ...
Quality plays an incredibly important factor when it comes to food. It is not always visible to the naked eye, but is crucial for maximum enjoyment.
The AMA Gastro Seal of Quality ensures independent controls and stands for conventionally produced foodstuffs which comply with above-average quality criteria and whose origin is traceable.
Roland and his team serve seasonal dishes from the region ...
Our Gourmetstube is open for you from 18.00 to 20.30 hrs.
Table reservations required.
Genuss Menü

€ 29.-
Cremesuppe vom Kürbis mit Kürbiskernölschaum
Pfeffer-Lammrücken gebraten auf Ratatouille mit gebackene Polentaknödel
vitaminreicher Salat
Creme brulée


Suppen

Rindssupe mit Kasspressknödel € 4,90

Vorspeisen
Schlutzkrapferl mit Spinat serviert mit zerlassener Butter und Alpenkäse € 8,50

Hauptspeisen

Blätterteigtasche mit Blunzen gefüllt auf Sauerkraut und Speck € 14,-

Wiener Schnitzl vom Tiroler Kalb mit Petersilkartoffel und Preiselbeeren, grüner Salat € 19,-

Gulasch vom Tiroler Hirsch mit gebackenen Polentaknödel und Speckchips, Krautsalat € 22,-

Geschmorrtes Hüferschwanzl vom Almochesen mit Serviettenknödel und Pilzen, Salat € 20,-
Hühnerfilet überbacken mit Edelschafskäse auf Apfel-Kürbisrisotto, grüner Salat € 19,-
Spezialität
Frische Forellen Tuxer Art, Petersilkartoffel, grüner Salat
je nach Größe 21,- bis 25,- €
Nachspeisen

Geeister Kaiserschmarrn mit hausgemachten Johannisbeersorbet € 7,80

Creme brulée mit Mangosorbet € 7,50




Allergen Kennzeichnung unserer Speisen erfolgt auf den Menü-/Speisekarte in unserer Gourmetstube.

Gerne servieren wir für Kinder und den kleinen Hunger auch kleinere Portionen!