Gourmetstüberl
Our Restaurant is open from Monday to Sunday from 6:00 p.m. to 8:30 p.m.
Day off 21.3.2023
Current menu
Soups / Starters

Beef broth with pan cake strips and vegetables 7,00
***
Beef broth soup with cheese dumplings and vegetables 9,-

****
Handmade stuffed pasta with chanterelles served with smelted butter and parmesan 10,80
****
Carpaccio marinated with rocket and parmesan shavings, bread 15,80
****
Green salad plate 5,00
****
Mixed salad plate 5,80
Specialty of the house
Fresh tirolian trout roasted "Müllerin"
served with boiled potatoes, green salad
Or roasted potatoes and vegetables
by weight 28,- to 34,-
Main dishes
Hipsteak from the almox with vegetables ,bacon and mushrooms , Mashed and fried potatoes 32,-
***
Filet of salmon trout with crevettes on Fregola Sarda with tomatoes 29,-
***
Grilled pork cutlet with vegetables and roasted white Polenta 28,-
***
Filet of corn chicken with feta cheese, tomatoes and wild garlic pasta 27,-
***
Veal Escalope "Vienna style" with parsley potatoes or potatoe salad 26,-
***
Satay of chicken and turkey skewer with mashed potatoes on cream spinach 26,-
***
Handmade stuffed pasta filled with wild garlic, brown butter and Parmesan cheese , Salad bowl 20,-
***



Desserts
Mousse au Chocolat with Ananassorbet and Vanilla-Espuma 12,-
***
Iced Honey- Herb Parfait with basilsorbet 12,-


Allergen labeling of our dishes is on the menu in our restaurant
We are happy to serve smaller portions for children.
NO Waste - also with us, so that nothing ends up in the dustbin and we can always offer our guests the best quality of freshness, we portion very precisely.
We ask for your understanding if a dish runs out! But then we have a new dish on our menu the next day,
so that our menu changes about every 2 days!
(updated on 16.3.2023)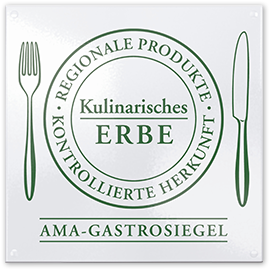 Food lovers and gourmets are in just the right place at Hotel Garni Forelle's Gourmet Dining Lounge.
We are the only bed an breakfast hotel in the vally with an in-house restaurant! We ar open for you 6 days a week - 1 day off variable.
Head of the house, Roland Kirchler, is passionate about cooking - and you can taste it! The certified AMA Seal of Quality means diners enjoy great food in our restaurant, prepared with predominantly regional ingredients. As one would expect, the fish for our fish dishes is freshly caught from our hotel-owned private waters of the Tuxbach River.

Do something good for your body and live life to the fullest – a principle that is leading increasing numbers of guests to demand wholesome, natural food. No flavour enhancing additives are required anyway for an unforgettably enjoyable experience for the palate and mind!
We have laid a table for you - come and find out for yourself ...
Privacy Policy Notification
This site attempts to embed maps from the google web server. Please note that when loading google maps, personal information may be transmitted to google. Do you agree with the loading of google maps? You can find more information
HERE