Gourmetstüberl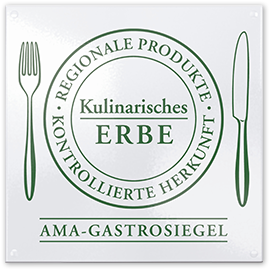 Food lovers and gourmets are in just the right place at Hotel Garni Forelle's Gourmet Dining Lounge.
We are the only bed an breakfast hotel in the vally with an in-house restaurant! We ar open for you 6 days a week - 1 day off variable.
Head of the house, Roland Kirchler, is passionate about cooking - and you can taste it! The certified AMA Seal of Quality means diners enjoy great food in our restaurant, prepared with predominantly regional ingredients. As one would expect, the fish for our fish dishes is freshly caught from our hotel-owned private waters of the Tuxbach River.

Do something good for your body and live life to the fullest – a principle that is leading increasing numbers of guests to demand wholesome, natural food. No flavour enhancing additives are required anyway for an unforgettably enjoyable experience for the palate and mind!
We have laid a table for you - come and find out for yourself ...
Privacy Policy Notification
This site attempts to embed maps from the google web server. Please note that when loading google maps, personal information may be transmitted to google. Do you agree with the loading of google maps? You can find more information
HERE