Gourmetstüberl
Daily menu
Our Restaurant is open from Monday to Sunday from 6:00 p.m. to 8:30 p.m.
Day off according to notice
Current menu


Soups / Starters

Garlic cream soup with cinnamon breadcrumbs 7,40
***
Beef broth with pancake strips 6,90
****
Handmade stuffed pasta with mushrooms( chanterelles)served with smelted butter and parmesan 10,50
****
Mixed salad 5,70
****
Green salad 5,00
Specialty of the house
Fresh tirolian trout roasted with boiled potatoes, green salad
by weight 28,- bis 32,-
Main dishes
Hip steak from alpine ox with courgettes and mushrooms, wild herbs Potato fritters 30,50
***
Escalope of veal "Vienna style"with cranberries, Parsly potatoes 26,-
***
Tagliatelle with venison ragout, Lado and cranberries, leaf salad 23,-
***
Roasted corn-fed chicken fillet with Tyrolean goat cream cheese on roasted pumpkin 24,-
***
Steamed trout fillet with vegetables on paprika cream and potato balls 25,50
***
Tyrolean blood sausage with sauerkraut and potato fritters 18,90
Desserts
Tiramisu 7,-
***
Homemade Sorbets:
Black currant,Blue berries or basil- 1 scoop 2,60 / each additional 2,10

Allergen labeling of our dishes is on the menu in our restaurant
We are happy to serve smaller portions for children
NO Waste - also with us, so that nothing ends up in the dustbin and we can always offer our guests the best quality of freshness, we portion very precisely.
We ask for your understanding if a dish runs out! But then we have a new dish on our menu the next day,
so that our menu changes about every 2 days!
(updated on 11/30/2022)
Gourmet Dining Lounge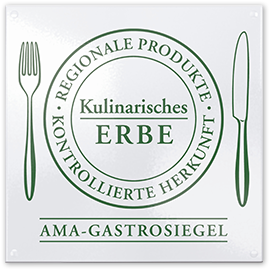 Food lovers and gourmets are in just the right place at Hotel Garni Forelle's Gourmet Dining Lounge.

Head of the house, Roland Kirchler, is passionate about cooking - and you can taste it! The certified AMA Seal of Quality means diners enjoy great food in our restaurant, prepared with predominantly regional ingredients. As one would expect, the fish for our fish dishes is freshly caught from our hotel-owned private waters of the Tuxbach River.

Do something good for your body and live life to the fullest – a principle that is leading increasing numbers of guests to demand wholesome, natural food. No flavour enhancing additives are required anyway for an unforgettably enjoyable experience for the palate and mind!
We have laid a table for you - come and find out for yourself ...
Privacy Policy Notification
This site attempts to embed maps from the google web server. Please note that when loading google maps, personal information may be transmitted to google. Do you agree with the loading of google maps? You can find more information
HERE