Gourmetstüberl
Aktuelle Speisekarte
Unsere Gourmetstube ist von Montag bis Sonntag von 18:00 Uhr bis 20:30 Uhr geöffnet.
Ruhetag laut Aushang!

Unsere Spezialität - die frischen Forellen - können aber weiterhin noch kochfertig bestellt und mitgenommen werden


Aktuelle Speisekarte
Suppen / Vorspeisen


Gazpacho mit gebratener Garnele am Spieß 8,50
****

Handgemachte Schlutzkrapferl gefüllt mit Graukäse - serviert mitzerlassener Butter und Parmesan 10,30
****
Geräuchertes Forellenfilet mit bunten lauwarmen Tomatensalat und Polentascheibe 16,-
****

Gemischer Salatteller 5,00
****

Grüner Salatteller 4,70
Hauptspeisen

Rumpsteak von Almochsen mit Kräuterbutter und Bruchetta mit Tomaten 24,-
****
Gebratenes Maishendlfilet mit Zillertaler Schafsfrischkäse im Speckmantel,gegrillten Rosmaringemüse und Rucolacreme 22,50
****
Lammfilet am Spieß mit Ratatouille gebratener Polenta und Prosciutto 24,-
****
Geschmorte Schulter von Almochsen mit gebackenen Erdäpfelknödel und Gemüse 24,80
****
Kotelette von Mangaliza Schwein mit geräucherter Paprikabutter, Romanesco Rosen und gebackenen Erdäpfelknödel 23,70
****
Büffelmozzarella mit Tatar vom Sommergemüse und Früchten fein mariniert 17,50
****
Hausspezialität
Frische Tiroler Bachforelle gebraten "Müllerin" mit Jungerdäpfel, grüner Salat
je nach Größe 26,- bis 30,-
Nachspeisen
Apfelstrudel mit Vanillesauce 7,-
****
Heumilch Frischkäsemousse mit Erdbeeren 8,-
****

Allergen Kennzeichnung unserer Speisen erfolgt auf den Menü-/Speisekarte in unserer Gourmetstube.
Gerne servieren wir für Kinder und den kleinen Hunger auch kleinere Portionen!
Unsere Speisekarte wechselt alle 2 Tage und wurde am 30.6.22 aktualisiert!
Gourmet Dining Lounge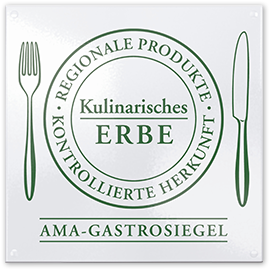 Food lovers and gourmets are in just the right place at Hotel Garni Forelle's Gourmet Dining Lounge.

Head of the house, Roland Kirchler, is passionate about cooking - and you can taste it! The certified AMA Seal of Quality means diners enjoy great food in our restaurant, prepared with predominantly regional ingredients. As one would expect, the fish for our fish dishes is freshly caught from our hotel-owned private waters of the Tuxbach River.

Do something good for your body and live life to the fullest – a principle that is leading increasing numbers of guests to demand wholesome, natural food. No flavour enhancing additives are required anyway for an unforgettably enjoyable experience for the palate and mind!
We have laid a table for you - come and find out for yourself ...