Gourmetstüberl
Aktuelle Speisekarte
Our gourmet restaurant is open from Monday to Sunday from 18:00 to 20:30.
Rest day according to the notice!
Daily menu


Soups/Starters
Cream of tomato soup with baked risotto dumplings 7,40
****
Handmade Pasta filled with chanterelles served with melted butter and parmesan 10,30
****
Mixed salad 5,00
****

Green salad 4,70
Main dishes

Roasted saddle of lamb on green beans with mango and potato galettes 28,-
****
Escalope of Tyrolean veal "Vienna style" with parsley potatoes and cranberries 25,50
****
Goulash of alpine ox with napkin dumplings,Tyrolean egg and bacon chips 22,-.
****
Tagliatelle with wild broccoli and pignoli, green salad 19,-
****
Special from our house
fresh Tyrolean brown trout fried "Müllerin Art" withyoung potatoes and salad
according to weight 26,- to 30,-
Dessert


Coconut milk ginger semolina flummery with apricot roast 8,-
****
Currant meringue cake with vanilla ice cream 7,50
****

Allergen labelling of our dishes is carried out on the menu/menu in our restaurant.
NO Waste - also with us, so that we don't have to throw anything away and always have a good quality of freshness, we portion very precisely and ask for your understanding,
if something goes wrong! But then we have a new dish on our menu the next day,
so that our menu changes every 2 days!
( updated on 23.7.2022)
Gourmet Dining Lounge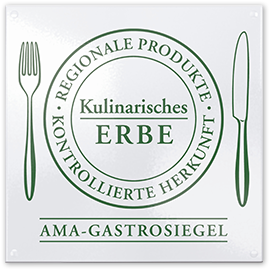 Food lovers and gourmets are in just the right place at Hotel Garni Forelle's Gourmet Dining Lounge.

Head of the house, Roland Kirchler, is passionate about cooking - and you can taste it! The certified AMA Seal of Quality means diners enjoy great food in our restaurant, prepared with predominantly regional ingredients. As one would expect, the fish for our fish dishes is freshly caught from our hotel-owned private waters of the Tuxbach River.

Do something good for your body and live life to the fullest – a principle that is leading increasing numbers of guests to demand wholesome, natural food. No flavour enhancing additives are required anyway for an unforgettably enjoyable experience for the palate and mind!
We have laid a table for you - come and find out for yourself ...