Gourmetstüberl
Unser Küchenchef Roland und Team freut sich, Sie wieder verwöhnen zu dürfen …
Unsere Gourmetstube ist von Montag bis Sonntag 18.00 bis 20.30 Uhr geöffnet.

Ruhetag laut Anschlag!

Platzreservierungen und eine der 2 G Nachweise erforderlich
Suppen / Vorspeisen

Topinambur- Kürbis Cremesuppe mit Schokoladeschaum 7,50

****
Klare Rindssuppe mit Grießnockerl und Wurzelgemüse 6,80

****
Handgemachte Schlutzkrapferl gefüllt mit Steinpilze oder Zillertaler Graukas -
serviert mitzerlassener Butter und Parmesan 9,80
****
Rotes Rohnen Carpaccio mit Räucherforelle und Kreneis € 14,-
****
Gemischer Salatteller 5,00
Grüner Salatteller 4,70



Hauptspeisen



Hüftsteak vom Almochsen mit Kräuterbutter, Jungzwiebel-Erdäpfelstampf und Zuckerschoten € 26,-


Lammfilet im Speckmantel auf cremigen Spinat und Gerstl- Gemüserisotto € 25,50

Piccata milanese mit Linguini auf Tomatenspiegel, gemischter Salat € 24,-


Gulasch vom Tiroler Almochsen mit Goggei, Speck und Kartoffelkroketten,Krautsalat € 22,-


Gebratenes Saiblings Filet auf Cremigen Spinat und Erdäpfel- Trüffelpüree € 24,50


Tagliatelle mit Ragout von der Zillertaler Gams mit Gemüse und Parmesan € 20,-


Saltimbocca vom Maishendl mit wilden Broccoli, Pignoli und Tiroler Schafsfrischkäse € 23,-
Hausspezialität


Frische Tiroler Bachforelle gebraten "Müllerin"mit Erdäpfel, grüner Salat
je nach Größe 26,- bis 29,-
Nachspeisen


"Dessertvariation Deluxe" 8,90


Heumilch Topfentarte mit Vanilleeis 4,20


Heumilch Sauerrahm Panna Cotta mit Ananassorbet 7,50




Allergen Kennzeichnung unserer Speisen erfolgt auf den Menü-/Speisekarte in unserer Gourmetstube.


Gerne servieren wir für Kinder und den kleinen Hunger auch kleinere Portionen!
Dear friends and guests of our kitchen, our restaurant is now open again!
Monday until Sunday-Warm kitchen from 18:00 to 20:30
Day off according to the notice - this week 19.1.2022
We ask for pre-reservation and compliance with the 2 G rules!
Our specialty - the fresh trouts - can still be ordered ready to cook and taken awayn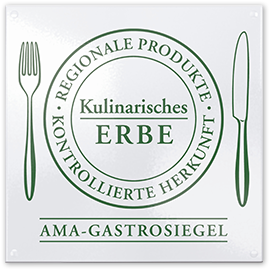 Food lovers and gourmets are in just the right place at Hotel Garni Forelle's Gourmet Dining Lounge.

Head of the house, Roland Kirchler, is passionate about cooking - and you can taste it! The certified AMA Seal of Quality means diners enjoy great food in our restaurant, prepared with predominantly regional ingredients. As one would expect, the fish for our fish dishes is freshly caught from our hotel-owned private waters of the Tuxbach River.

Do something good for your body and live life to the fullest – a principle that is leading increasing numbers of guests to demand wholesome, natural food. No flavour enhancing additives are required anyway for an unforgettably enjoyable experience for the palate and mind!
We have laid a table for you - come and find out for yourself ...
Quality plays an incredibly important factor when it comes to food. It is not always visible to the naked eye, but is crucial for maximum enjoyment.
The AMA Gastro Seal of Quality ensures independent controls and stands for conventionally produced foodstuffs which comply with above-average quality criteria and whose origin is traceable.