Holiday Charm at Hotel Garni Forelle Tux
... means to feel at home from the moment you arrive!
A warm welcome from the Kirchler Family in the Tux Valley!
Located at the entrance to the green glacier valley, our two houses are linked by a subterranean connection.
With stunning views of the Tux Glacier Alps, lush alpine meadows and crystal clear mountain spring water!
Hay fever sufferers in particular appreciate the low pollen mountain air here, while those seeking peace, tranquillity and a gentle way of life need look no further.
We are already well-prepared to spoil you with creature comforts at our Hotel Garni Forelle.
Our wellness & spa area, welcoming house bar, rustic farmhouse parlour and "Playarena" children's world promise active, relaxing and eventful holiday holidays in both summer and winter.
Our central location inspires hikers, mountaineers, mountain bikers, cross-country skiers and skiers (right next to the Zillertal 3000 ski area), as do the slopes of the Hintertux Glacier, where you can ski all year round. The shallow waters of the Tuxbach River flow directly behind our Hotel-Garni Forelle, enticing you to a spot of fly fishing in our very own private waters! Families with children also feel very much at home here! Use of the entertaining amenities at the nearby Playarena is also free for houseguests.
The hotel and guesthouse offer comfortable rooms, sumptuous double rooms, family rooms, junior suites and even holiday apartments, with everything you could wish for. Not only that, we are the only "hotel garni" in Tux with its own hotel restaurant!
Your carefree vacation is our top priority. That is why safety and hygiene are paramount and we have taken every precaution to ensure you have a relaxing holiday.
Of course there is also our popular childcare in the Playarena and games and fun are once again the first place for all children.
If you have any further questions about a booking, please do not hesitate to contact us by email or phone.
Just give us a call on +43 528 787 214 and your vacation can begin!
Your family Kirchler and the team from the hotel
Cancellation free of charge up to 1 month before arrival
---
Fliegenfischerkurs für Anfänger Juli 2023
mit Markus Kaaser- Mark's Flyfishing
von 06.07. - 10.07.2023
4 Übernachtungen ab € 605,-
Wir haben für Sie ein Gesamtpaket inkl. Kursgebühr zusammengestellt!
---
Stage de perfectionnement de pêche a'la mouche en eaux rapides Autriche

sous la direction experte de Jean-Paul Buttigieg.
Cours du 17 au 21 juillet 2023 Langues d'enseignement : anglais et français.
Découvrez toutes les subtilités de la pêche à la mouche avec l'un des meilleurs spécialistes européens - Jean-Paul Buttigieg - guide moniteur diplômé BPJEPS. Jean Paul connaît notre zone de pêche privée depuis des années et sait où se trouvent les truites fario, les truites arc-en-ciel et les ombles de fontaine.
6 nuits du 16.7. au 22.7.2023 à partir de € 954,-
par personne en chambre double "Fliege"**** en occupation double
par personne en chambre individuelle **** € 1134,-
y compris 5 jours de cours et permis de pêche.
---
Electric charing station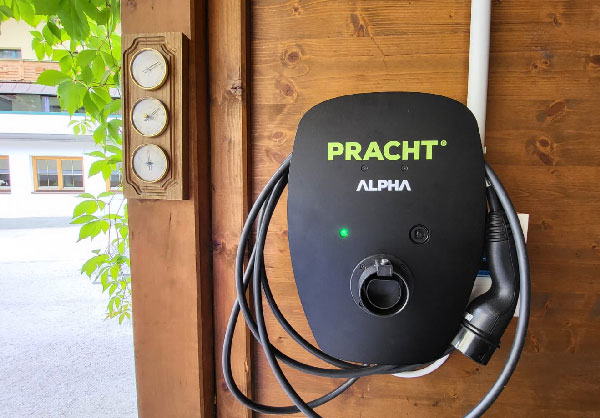 So that our guests can aloo arrive with their electric car, we now have an electric charging station.
The charging station ist only available to house guests.
Billing is based on the charged power at our electricity house tariff.
---
A kids' dream come true - at the Playarena Tux
We have partnered with the Playarena, which means that all of our guests aged 3 - 15 can make use of and partake in all the activities at the Playarena during their stay - free of charge.
Family holiday with childcare in Zillertal / Tux

This is where childrens' and teens' dreams come true!
Hier erleben Kinder und Jugendliche einen Traum! The Playarena offers everything the heart requires during a perfect family holiday.
The Zillertal is a valley brimming with highlights. Tux and Hintertux are a paradise in summer and the perfect destination in winter - and there is just something special in the air year round. It comes as no surprise then that Tyrol's most unique play arena can be found here. Families can revel in special moments and make memories in an indoors area covering more than 1,200 m² and all over the holiday region outdoors.
---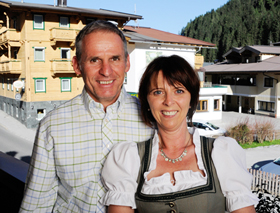 We are looking forward to your visit
Eva Maria Kirchler & Roland Kirchler
Holidays that live up to your expectations enjoy ...

a healthy and energising breakfast buffet

outdoors activities in our still-intact nature, catching fish in a mountain torrent, guided hikes with a nature park guide, or

cross-country skiing right outside the hotel, skiing in close vicinity to the hotel or year-round skiing on the glacier

a stay in one of our comfortable rooms and in a familial atmosphere where you can spend relaxing days
relaxation in our wellness area or on the sunny terrace
Privacy Policy Notification
This site attempts to embed maps from the google web server. Please note that when loading google maps, personal information may be transmitted to google. Do you agree with the loading of google maps? You can find more information
HERE